Our escape games will dazzle your senses
Puzzles and clues for an action-packed group activity.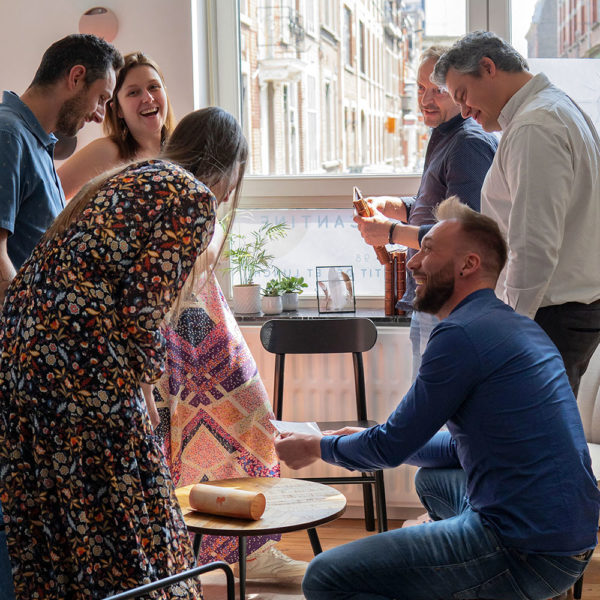 Check out our delectable escape games for companies
Our experts have crafted an exciting scenario for your team. It has been specially designed to offer you a fun and educational experience. Let's go on a real adventure together! Find the clues hidden in the room and unlock the safes as you go. Your reward? A delicious tasting with champagne, beer, cocktails or chocolate. Are you up for the challenge?
Virtual Escape game
From 4 to 60 people
1H30 to 2H
€€
Only available in English and French
Why choose Ready Steady for your escape game?
Want to embark on an adventure?
Are you looking for an innovative escape game that takes your tastebuds on an adventure? Our entertainment professionals are here for you! Check out the various tasting products offered during our escape games and be inspired by the senses they awaken in you.
Why not try a virtual escape game?
Did you know…? We also offer an online version of our wine-themed escape game! An innovative concept for a break, even remotely. Pool your team's strengths by solving each participant's puzzle and open the lock to enjoy your tasting together.

Hello Vanessa,
All our team wanted to thank you for this top animation, everything went very well! There was something for everyone and everyone had a great time. Quality products with dynamic animators make your animations a great success!
On behalf of Bionutrics, I would like to thank you again for a great time.
Bionutrics

A great time! We called upon Ready Steady to animate our agency's team building and we have nothing but compliments for Vanessa and her animations. The whole team easily got into the escape game and the cocktail making activity was also a great success. I will definitely do the Russian Spring Punch or the Champagne Julep again! We recommend it with our eyes closed!
Poush

Super event professionally managed from A to Z. From the first contact to the last minute.
The concept is well established and works well. To be recommended.
SAP

We had a great time with Vanessa from Ready Steady. Thanks to her advice, we were able to make delicious cocktails ourselves with the right ingredients. The whole thing took place in a friendly atmosphere and my colleagues and I were delighted to be able to perfect our shaker skills! In short, a great activity to do with friends or colleagues!
Poush

The Wine Making Academy animation was the success we had hoped for; we were looking for a teambuilding activity to do in the warmth of the uncertain weather. The explanations on wine, the blending and the creation of the label were very popular, some employees even revealed hidden talents! Our teams enjoyed themselves so much that the activity could have lasted longer.
Thank you to Vanessa and her team for organizing this great activity.
La Villa d'Olne (Spa – Belgique) for Comtoyou company

Hi Vanessa,
A quick note to say thank you for helping us organise the cocktail academy last week, this was very well received by our team, very fun, creative and also useful for making people think about the Orgalim brand.
It was great to be able to meet you in advance and tailor this workshop to our needs.
It was a pleasure working with you and we wish you many more successful events.
Best regards
Orgalim

"Hello Vanessa,
I wanted to thank you and your colleague for this wine and chocolate tasting session, which was greatly appreciated by our colleagues.
Both fun and instructive, this activity allowed us all to spend a very pleasant time together.
Good luck! "
APTYS a Deloitte business

A great experience to keep the bonds with your team and partners ✨
We loved the personalized boxes, delivered directly to our home!
AC-IT

We really liked the animation, both fun and "educational"! as well as the follow-up before the animation: you are very professional and it is pleasant.
WeQan

I've had nothing but positive feedback. They loved it.
Sogalux

A big thank you for the animation which was perfectly successful and up to our expectations.
A big bravo to all your team!
Visit.brussels
Activities for seminars and events
Does your hotel have a conference centre? Are you an event company? Let's work together to bring events of any kind to life. Escape games, tastings, casino games and more – Ready Steady offers a varied collection of team-building activities to delight your clients.